Is It Time To Declare Lauryn Hill A Style Icon?
I found myself watching a series of music documentaries on YouTube. Quick plug: Subscribe to the Sabrina Theresa channel, new Fashion Talk videos are posted weekly.
How Lauryn Hit My Radar Recently
Ok, so I'm watching this documentary about Lauryn Hill's decade-long music career. Many of us learned about Lauryn – who has also used her voice to bring awareness to racial issues and to push for social change – in 1996 when The Fugees dropped their hit album, The Score. While I liked their music, as well as The Miseducation of Lauryn Hill, which is a mega-hit classic, I honestly never paid attention to what she was hearing or how she was styled….
…Until this documentary.
All of the photo and video clips of her which spanned the past 25 years had me making those crazy emoji eyes because – lo and behold – she has amazing style. However, I do not recall her ever being a part of any conversations about style, which suddenly felt surreal because I loved every look in the documentary. I became super intrigued by her aesthetic.
Let's Break It Down…
See, IMHO, there are not many who can have abstract style (like hers) and execute it flawlessly look-after-look for decades. I see some who do it, but they're lazy about it or it seems contrived. I live in NYC, I have plenty of case studies on this lol. Anyway, Lauryn has not only doing it well but she's been doing it for 25+ years. That qualifies her as a true trendsetter, leader, pioneer!! On top of how she mixes the most incredible pieces – clothing, accessories & jewelry, shoes, she also plays around with hair and makeup. Another observation – she takes pieces from polar opposite ends of the fashion spectrum – hard and soft – and puts them together. Look at how she styled this basic ole gray hoodie on this look. Wow! I want all these pieces. The only other person I know that does this well is Rihanna…but Lauryn amps it up a few notches, plus something tells me that she doesn't work with a stylist.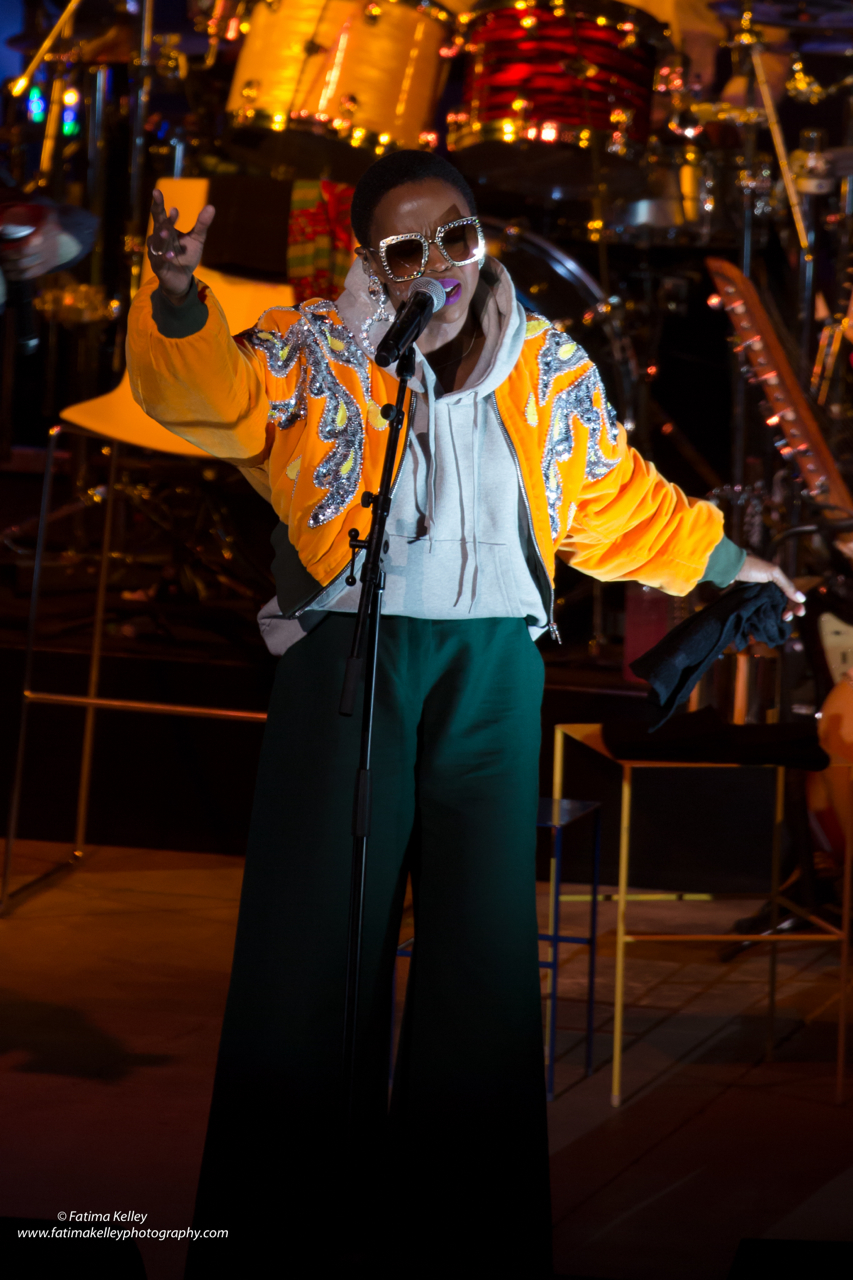 One last thing…
She always wears a lip. Bold or dark. I LOVE that.
I don't get a sense that she works with a stylist. Does anyone know? I'm not sure how I describe her style. There are adjectives I could throw out there, but to bring them together in a cohesive description? I struggle. How would you describe Ms. Lauryn Hill's style? Btw, I learned in the documentary that "Ms." is now part of her branding.
Did yall know that she did a campaign with Woolrich? That's an outerwear brand I like for their heritage-inspired pieces. I describe them as a millennial-focused, low-key, modern Ralph Lauren.